Council 1283 105th Anniversary Dinner
FYI
Westminster Council 1283 will be celebrating our 105th anniversary on December 1.
We invite you to celebrate this special occasion with us.
Date: Saturday, December 1, 2012
Time: Cocktails 6:00 PM Dinner 7:00 PM
(Mass at 5:00 PM at St Peter's Church
Place: St. Peter's Church Hall, 330 Royal Ave, New Westminster
Menu: 4 course dinner including complimentary wine, dessert, tea, coffee
Tickets: $35 each (no tickets at the door)
Contact: Elvis Atienza, FS 604-723-7266
Joe Garisto, PGK 604-522-9183
We hope to see you at our celebration.
Fraternally,
Rod Giddens
GK, Westminster Council 1283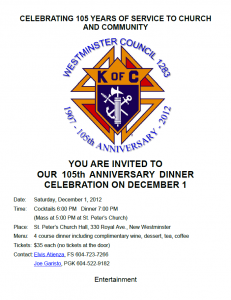 Tags: Council 1283